Our 3-Person Infrared Sauna, Make It Your Own Private Salt Cave with Halotherapy
Step into the first Halo-IR Sauna, designed to emit infrared heat and salt particles simultaneously, enhancing both therapies' benefits. The infrared heat helps you detoxify, relieve pain, and relax, while the salt particles may improve respiratory and skin conditions. You can plug in and control your music to put on a relaxing playlist or a guided meditation with high-quality Nakamichi stereo speakers (Bluetooth and MP3 audio connections available).
Heat up, breathe in, lay back, and detox.
Want to get a bonus session and be the first to try?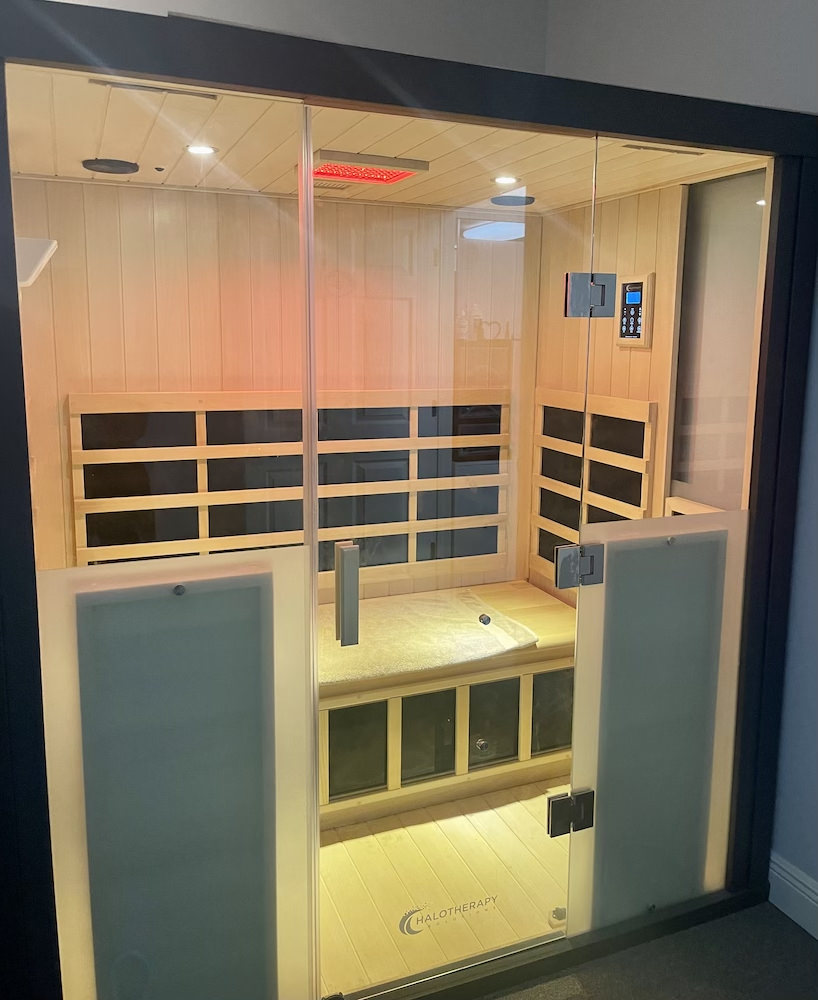 The infrared sauna helps promote better circulation and supports your body's natural detoxification processes so you feel refreshed.
Regular use of an infrared sauna helps support the immune system by increasing circulation and promoting the elimination of toxins from the body.
Infrared sauna therapy may help reduce muscle and joint pain, as well as inflammation, by increasing blood flow and oxygenation to affected areas.
Some studies suggest that infrared sauna therapy may help support weight loss by increasing metabolism and burning calories.
IR saunas improve skin health by increasing blood flow to the skin, promoting collagen production, and reducing the appearance of fine lines and wrinkles.
The relaxation induced by the heat of an infrared sauna can help reduce stress and promote relaxation, which can have a positive impact on overall wellbeing.
Halotherapy, also known as salt therapy, is a form of alternative therapy that involves inhaling fine particles of salt in a controlled environment. The practice originated in Eastern Europe and has been used for centuries to treat various respiratory and skin conditions.
In halotherapy, a person sits in a room or chamber that is filled with salt particles, usually generated by a halogenerator, which grinds pharmaceutical-grade salt into tiny particles and releases them into the air. The person inhales these particles, which are believed to help alleviate respiratory problems such as asthma, allergies, and bronchitis, among other health benefits.
Salt particles are believed to have anti-inflammatory properties and may help reduce symptoms of respiratory conditions such as asthma, bronchitis, and sinusitis. Halotherapy may also help clear mucus from the airways and improve breathing.
The anti-inflammatory properties of salt may also benefit the skin by reducing inflammation and improving hydration. Halotherapy may help alleviate skin conditions such as psoriasis, eczema, and acne.
Halotherapy is often promoted as a relaxing and stress-reducing therapy. Salt rooms are typically designed to create a calming atmosphere, and the act of breathing in the salty air may promote relaxation.
Salt is believed to have antimicrobial properties and may help boost the immune system. Halotherapy may help prevent or reduce the severity of colds and other respiratory infections.
Some athletes use halotherapy as a way to improve exercise performance and speed up recovery. The therapy may help reduce inflammation and muscle soreness, and improve lung function.
Halotherapy may also have detoxifying effects on the body. The salt particles can help to draw out toxins and impurities from the body through the skin, which can have a cleansing effect on the body.
Frequently Asked Questions